Oval Tulip Table
InJoy
Detail:
Eero Saarinen
Oval Tulip Table
FY-B021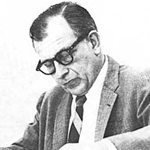 Eero Saarinen (1910 – 1961) was a Finnish American architect and furniture designer of the 20th century famous for varying his style according to the demands of the project: simple, sweeping, arching structural curves or machine-like rationalism.
Eero Saarinen shared the same birthday as his father, Eliel Saarinen. They emigrated to the United States of America in 1923, when Eero was thirteen. He grew up in Bloomfield Hills, Michigan, where his father was a teacher at the Cranbrook Academy of Art and he took courses in sculpture and furniture design there. He had a close relationship with fellow students Charles and Ray Eames, and became good friends with Florence Knoll.
Saarinen first received critical recognition, while still working for his father, for a chair designed together with Charles Eames for the "Organic Design in Home Furnishings" competition in 1940, for which they received first prize. The "Tulip Chair", like all other Saarinen chairs, was taken into production by the Knoll furniture company, founded by Hans Knoll, who married Saarinen family friend Florence (Schust) Knoll. Further attention came also while Saarinen was still working for his father, when he took first prize in the 1948 competition for the design of the Jefferson National Expansion Memorial, St. Louis, not completed until the 1960s. The competition award was mistakenly sent to his father. He designed furniture with organic architecture.
During his long association with Knoll he designed many important pieces of furniture including the "Grasshopper" lounge chair and ottoman (1946), the "Womb" chair and ottoman (1948), the "Womb" settee (1950), side and arm chairs (1948–1950), and his most famous "Tulip" or "Pedestal" group (1956), which featured side and arm chairs, dining, coffee and side tables, as well as a stool. All of these designs were highly successful except for the "Grasshopper" lounge chair, which, although in production through 1965, was not a big success.
Saarinen's architectural legacy communicates this sentiment of giddy potential and unfettered optimism in post-war America. Iconic projects like the Gateway Arch in St. Louis, Washington D.C.'s Dulles International Airport Terminal and the Kresge Auditorium on MIT's campus express his groundbreaking brand of mid-century modernism.
As his designs show, Eero Saarinen was a man of vision. He died of a brain tumor in 1961 at the age of 51, and is buried in Michigan. Though his life was tragically cut short, his vision lives on through the structures that he created. The Gateway Arch marked the beginning of his career just as the "Gateway to the West" marked the beginning of a new life for countless pioneers. In both cases the desire was to move boldly toward the future. The Arch is ultimately a monument to all those with a vision; Thomas Jefferson, the American pioneers, and Eero Saarinen.
Production Descrption
The
Saarinen Tulip Oval Table
is a high quality reproduction of the original created by Eero Saarinen in 1956. The Saarinen Tulip Oval Table is a true classic! Stylish and modern, the Saarinen Tulip Oval Table is a design masterpiece that fits seamlessly into any environment.
The Tulip Oval Table is available in all types of materials:Fiberglass or marble top, Fiberglass base(heavy molded aluminum), Many color for fiberglass finish, you make the choice, and make the table your own.